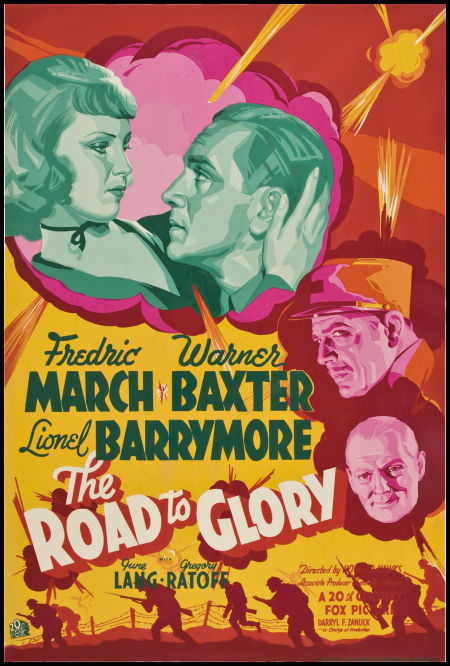 Muy poco difundida en Europa en su momento –por supuesto en España jamás fue estrenada-, THE ROAD TO GLORY (1936) es un muy poco conocido film de Howard Hawks –que le permitió retornar a la 20th Century Fox tras su abandono del estudio en los últimos coletazos del cine mudo-, que por otra parte ha gozado de una relativa estima entre determinados representantes de la crítica francesa. No se puede negar por otra parte que goza de suficientes cualidades y sigue bastantes constantes temáticas del cine de Hawks como para no ser tenido en cuenta. En cualquier caso, y es una opinión muy personal, THE ROAD TO GLORY –que ha sido editado recientemente en DVD en España bajo el título CAMINO DE LA GLORIA- posee, pese a sus intermitentes cotas de brillantez, un cierto apergaminamiento que en ocasiones he detectado en algunos títulos norteamericanos de la década de los años 30. Es algo que podía sorprender de manos de un Hawks que ya atesoraba cuando realizó el título que nos ocupa, una trayectoria caracterizada por su brillantez, pero que quizá tendría una relativa justificación en la intención de proporcionar un aire sombrío y claustrofóbico a la película.
Paul Laroche (Werner Baxter) es el alto mando de un regimiento de franceses que lucha en su suelo durante la I Guerra Mundial contra los enemigos alemanes –la acción se desarrolla en 1916-. Laroche está enamorado de Monique (Jane Lang), una joven agradecida por cuanto este ha ayudado tanto a ella como a toda su familia. Pero pese a ello, Monique no comparte los sentimientos que Laroche le manifiesta. Esta circunstancia tendrá el oportuno florecimiento cuando nuestra protagonista –que trabaja como ayudante de enfermería- se encuentre accidentadamente con Michele Denet (Frederick March). Ese será el inicio de una relación amorosa entre ambos, mientras que por otra parte Denet es un oficial bajo el mando de Laroche, estableciéndose entre ambos una sincera amistad y sentimiento de camaradería, todo ello en un entorno en el que se suceden los bombardeos y escaramuzas contra el enemigo y aparece como veterano voluntario el padre de Laroche (Lionel Barrymore). Este último, tras ser aceptado en el regimiento logrará una labor individual de gran valentía –que se nos muestra en off- y poco después a causa igualmente de ese miedo que poco antes había logrado dominar, le llevará a atacar erróneamente a sus propios compañeros.
Paralelamente, la relación entre Monique y Michele llegará a manifestarse ante el mismo Laroche –quien paradójicamente no los verá, ya que se ha quedado ciego en un bombardeo-, pero que no obstante aceptará su propio final en compañía de su padre y en una misión militar. Denet le sucederá en el mando, reiterando incluso los discursos y arengas que su predecesor formulaba ante el comando. Ese mismo respeto al desaparecido Laroche, le llevará a alejarse definitivamente de Monique.
THE ROAD TO GLORY es una nueva versión de una novela de Roland Dorgelés, que ya fue llevada al cine en Francia cuatro años antes, y que hay que incluir dentro del amplio capítulo de producciones que se realizaron evocando o cuestionando la I Guerra Mundial. No se puede decir que se encuentre entre los ejemplos más ilustres, aunque en él se despliegue una vez más ese concepto típicamente hawksiano de la amistad y camaradería entre los protagonistas masculinos -que trascenderá incluso la muerte de Laroche- en el que la mujer ocupará de nuevo un rol de competitividad. Sin embargo, en el producto que nos ocupa el vértice femenino es amable, sincero y carece de matices negativos, logrando además una interpretación de gran modernidad y llena de sensualidad en Jane Lang –el modo en la que aparece en los planos iniciales y en el despacho de Laroche, es muy sugerente-.
Por lo demás, destaca en la película ese generalizado entorno fatalista, lúgubre y claustrofóbico –se nota la mano de William Faulkner en el guión-, especialmente en las secuencias desarrolladas en trincheras y combates, así como existen detalles que sirven a la perfección para describir a sus protagonistas. Uno de ellos será mostrar a Michele tocando el piano en un sótano mientras se desarrolla un bombardeo, y allí Monique lo conocerá; las diferencias de carácter entre Michele y Laroche que se manifiestan al estar herido en la trinchera enemiga un soldado francés, que durante la noche no deja de proferir gritos de dolor. El primero intentará rescatarlo, mientras que el segundo de forma expeditiva le disparará un tiro para que con su muerte descanse de su agonía, y al tiempo tranquilice a los soldados que comanda; la escenografía de un cementerio rural nocturno; la forma por la que Michele descubre la vinculación de Monique con Laroche –este le ha entregado una carta y una serie de recuerdos para que si él falleciera se los entregara a la joven; Laroche advierte malos augurios-; el episodio latente de la mina que se está excavando bajo la trinchera francesa y que crispa el ambiente de sus soldados. Será en el relevo de estos cuando en plano general veremos el estallido de las minas, provocando la muerte de numerosos combatientes...
Destacando todo este conjunto de elementos, quizá pueda parecer que considero THE ROAD TO GLORY una gran película, y nada más lejos de ello. A esta obra de Hawks le pasa lo mismo que a títulos como LA PATRULLA PERDIDA (The Lost Patrol, 1934. John Ford) y tantos otros. En ellos se observa una cierta lentitud, una determinada teatralidad, una recurrencia al estatismo que recuerda al cine mudo y que personalmente me impide disfrutar totalmente de ellas, pese a sus eventuales cualidades.
Calificación: 2'5
Comentarios » Ir a formulario
Autor: Feaito
Desgraciadamente antes de ver esta aceptable película de Hawks vi la magistral adaptación Francesa de la historia "Les Croix de Bois" (Las Cruces del Bosque) dirigida por Raymond Bernard, que muestra las trincheras de la Primera Guerra Mundial con una realidad y crudeza aplastante. Por sí sola esta película resulta una entretenida película de guerra y nada más. June Lang carece del nivel interpretativo de Fredric March y Warner Baxter.
Fecha: 09/05/2012 00:09.
---