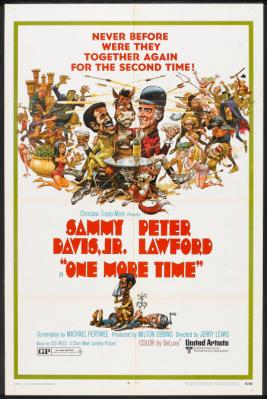 Resulta bastante difícil de comprender el rápido ocaso que alcanzó la andadura como realizador de Jerry Lewis, según fue finalizando una década, la de los sesenta, en la que solo siguió manteniéndose como una de las estrellas más taquilleras en el cine norteamericano, mientras que para la crítica francesa fuera uno de sus "niños mimados". Fue este un aprecio crítico estimo bastante justificado, en la medida de encontrarnos ante uno de los más valiosos y perseverantes representantes de la comedia norteamericana, aunando en sus películas la herencia incluso del slapstick mudo, y mostrándose al mismo tiempo permeable al cine de aquel tiempo, del que incluso emergió como uno de sus representantes más renovadores. Pero sucedió que los tiempos iban cambiando en la industria de Hollywood, que el propio Lewis iba creciendo, y su fama de cómico para todos los públicos fue decreciendo. Si a ello unimos que en su país jamás fue considerada en serio su aportación como cineasta, o la transformación que fagocitó el modo de entender el cine conocido por todos, facilitó la relativa decadencia de un hombre que, en plena oposición a dichas características, intentó buscar nuevos caminos expresivos, que permitieran reconocerle como un buen cineasta, no un simple protagonista de entretenimientos familiares. Es así como surgió en 1972 el rodaje de THE DAY THE CLOWN CRIED, un título que más de tres décadas después sigue sin ver la luz pública, secuestrado por litigios de producción, y que Lewis rodó con la confianza de mostrar otra imagen de su propia personalidad artística, narrando la historia de un payaso que servía como entretenimiento a los niños, antes de que estos fueran gaseados en los campos de exterminio nazi. Una base argumental sin duda impactante, que tanto tiempo después ha servido como referente más o menos cercano, de títulos como LA VITA È BELLA (La vida es bella, 1997. Roberto Benigni).
En cualquier caso, tras la disolución de su contrato con la Paramount, Lewis rodó para la Columbia dos títulos –uno de ellos estupendo-: THREE ON A COUCH (Tres en un sofá, 1966), y otro también interesante, aunque de menor entidad –THE BIG MOUTH (La otra cara del gangster, 1967)-, en el que se atisbaba una cierta carencia de medios, algo esencial para la obra del cómico. Tres años fueron necesarios para que Lewis acometiera de nuevo otra película, la única además en la que no interviene como protagonista, haciendo tan solo un breve cameo que, lo reconozco, ni yo mismo supe detectar. Se trata de ONE MORE TIME (1970), sin duda la realización menos conocida de todas cuantas acometió, y ya no solo por el hecho de no haberse estrenado jamás en nuestro país, sino que incluso ni llegó a hacerlo en Francia. Podríamos decir con bastante pertinencia que se trata de un encargo propiamente alimenticio, ya que se trata de una nueva andadura cinematográfica de los personajes que, encarnados por Peter Lawford y Sammy Davis Jr., protagonizaron el debut cinematográfico de Richard Donner –SALT AND PEPPER (Sal y pimienta, 1968)-.
Puede que fuera bastante poco para una personalidad como Lewis, tener que asumir una especie de secuela que, en apariencia, poco tenía que ver con su mundo expresivo, siendo en cierto modo una bajeza para este. Puede sin embargo que se planteara como un divertimento para satisfacer a dos viejos amigos como los citados Lawford y Davis Jr. –que ejercieron como productores-. Inscribiendo la película en una u otra vertiente, lo cierto es que la misma evidencia esa relativa decadencia de su director, sin que ello impida que en sus imágenes se encuentren episodios afortunados, y en todo momento reconozcamos en ella el sello de su artífice.
ONE MORE TIME prolonga la andadura lúdica sobrellevada por Charles Salt (Sammy Davis Jr.) y Christopher Pepper (Peter Lawford). A ambos se les cerrará un club que estaban a punto de inaugurar en Londres, llegando a ser multados por incumplimiento de normas. La situación se tornará insostenible para ellos, teniendo Christopher que recurrir a su hermano gemelo –nació un minuto antes que él-, Lord Sydney Pepper (encarnado por el propio Lawford). Este acepta pagar la multa de Pepper con la condición de que abandone Inglaterra, ya que su presencia le supone un auténtico desprestigio –Lord Sydney es un hombre muy altanero-. Totalmente decepcionados abandonarán su domicilio, aunque más adelante Chris retorne para hablar con su aristocrático hermano, encontrándolo cadáver. Dentro de la inquietud del momento, no se le ocurrirá otra idea más que suplantar su personalidad y, con ello, poder vivir cómodamente el resto de su vida. Incluso contratará a Salt como ayuda de cámara, convenciéndolo para que acuda allí a vivir con él y trabajar en su nuevo cometido.
Un sencillo punto de partida –en el que hay que tener ciertas tragaderas al asumir esa innecesaria sustitución de Chris por el asesinado Sydney, ya que de todos modos él hubiera sido heredero de sus propiedades-, que nos lleva a un marco en el que Lewis dejará bien a las claras los ejes de su particular manera de entender la comicidad cinematográfica. Así pues, dentro del castillo encontraremos desde la presencia de un viejo mayordomo de desesperante lentitud en su cometido –una idea que retomó años más tarde Blake Edwards con el personaje de la vieja ayudante del sacerdote en 10 (10. La mujer perfecta, 1979)-, hasta la presencia de gags absolutamente ligados al nonsense lewisiano –ese viejo calentador que estalla repentinamente-, o incluso la presencia de divertidos private joke –como la presencia de Christopher Lee y Peter Cushing, encarnando por un instante sus arquetípicos personajes-. Todo ello en una trama de ecos policíacos, donde unos y otros intentan liquidar al falso lord, buscando una fortuna de diamantes que el asesinado tenía guardado, mientras que la policía intentará esclarecer el verdadero causante del crimen.
En lo que realmente destaca ONE MORE TIME, es la manera con la que Lewis alterna lo serio y lo divertido casi de manera automática, o en la entrega dispensada en facetas como la escenografía del interior del castillo, que permitirá elementos de decoración tan llamativos por su modernidad como los dormitorios de Pepper –en donde se despliega un juego con la cámara para extraer todo el partido posible de su presencia-, o incluso en detalles como la analogía que Lewis establece del reciente 2001: A SPACE ODYSSEY (2001. Una odisea del espacio, 1968. Stanley Kubrick), a partir de la descomunal puerta que Salt logrará abrir, introduciéndose de forma curiosa en un salón que es mostrado al espectador por medio de picados. Son, indudablemente, rasgos inherentes a la personalidad del creador de THE NUTTY PROFESSOR (El profesor chiflado, 1963), que hay que reconocer funcionan con eficacia en la película.
Pero hay algo más. Sus imágenes evocan en el espectador la vieja estructura de los títulos protagonizados en la década de los cincuenta por el propio Lewis con Dean Martín. En esta ocasión, podríamos decir que Davis Jr. sería el equivalente del Lewis cómico, mientras que Lawford ejercería como heredero de Martín. Esta circunstancia, a mi modo de ver constituye uno de los lastres de la función, en la medida que David jamás debió imitar los rasgos cómicos de Lewis, realizando una sobreactuación que el espectador asume con cierto rechazo. De manera paradójica, Lawford realiza en su doble papel una labor notable, sobre todo manifestado en las miradas de ternura que muestra hacia su fiel amigo, cuando se esconde bajo la identidad del lord asesinado. Al parecer, el propio Lawford se quejó a Lewis de esa preponderancia del personaje de su partenaire, en una reclamación estimo bastante justa.
ONE MORE TIME concluye de manera disparatada y casi con un auténtico desprecio de la ortodoxia argumental. Para ello la película insertará en sus últimos fotogramas una distanciación de los dos protagonistas de la acción, anunciando sus propios nombres como intérpretes, y prolongando con ello la tendencia que el propio Lewis llevó a cabo en varios de sus films, especialmente en la asombrosa conclusión de THE PATSY (Jerry Calamidad, 1964). Por supuesto, el título que comentamos se sitúa muy por debajo de los grandes títulos del autor, pero dentro de sus irregularidades –que no son pocas- permiten recrearnos con la reconocible personalidad de su artífice, así como al menos acercarnos a un título prácticamente invisible, incluso por los más acérrimos seguidores de su cine.
Calificación: 2'5
Comentarios » Ir a formulario